There are two sides of Daming Shan.

Note:

One is a village, and the other one is only for tourists. I visited the village side, which was also attractive. However, I suggest you go to the tourist side. The mountain is too wide, if you get to one side and wanna move to another side it will take at least 1:30 hour. If you are Muslim, take your halal food there because there is no restaurant for halal/QinZhen. I suggest you visit another side where are camping and other activities.

Introduction:

The Daming Mountain is the highest mountain in south-central Guangxi, with an average altitude of 1200 meters. With a height of 1764 meters, Longtou Mountain's main peak is the tallest in south-middle Guangxi. The beautiful area was included to the worldwide protection network by the Human and Biosphere National Committee as a first-class natural reserve in Guangxi. High mountains, cliffs, slopes, deep valleys, rich woods, and streams traverse all around Daming Mountain. Averaging 16 °C throughout the year, the temperature at the upper peak is 8–10 °C cooler than at the mountain's base due to local topography and south Asian tropical breezes.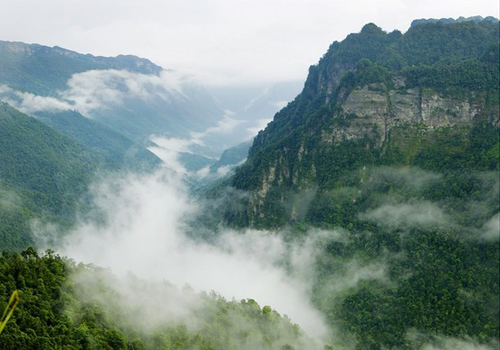 Daming Mountain
Daming Mountain offers different views depending on the season: in the spring, flowers are in full bloom and come in a variety of colors; in the summer, the waterfall is surrounded by mist and clouds; in the autumn, the mountain is covered in leaves that are as red as fire; and in the winter, the mountain is draped in white snow. The "Guangxi's Lu Mountain" gained fame for all of these beautiful vistas. The main tourist attractions are the magnificent peaks and isolated valleys, with Gannan Valley being the most impressive sight. It is covered in mist and clouds and has steep cliffs on both sides. The other main attractions are the high mountains and grasslands. On top of the mountain, there are six grasslands surrounded by trees where only grass grows.

How to get there from Nanning

1. Direct find a taxi on any APP it will cost upto 200-300 yuan.

2. By Bus. Tourist bus: 9 o'clock from a mingzu shopping mall or 3 o'clock from mingzu Shopping mall

you can also find bus in

Xiao Jin Shan Square (in front of Chaoyang Square in the city center);



You can get there within 3 hours.
The below video belongs to the village side mountain.